Axiy
Occupation
Pixel Arist, Sound maker
First Game
Panbus
Latest Game
Seagum Jelly
Joined
29th Jan. 2012
Axiy is the first pixel artist for flash games of Blueflake, he is the co-founder, he made sprites for the first games.
His official first game he started on was Lamadilus, then his second game was Seagum Jelly. Seagum Jelly was an indirect spin-off. He normally works with TNY and Random-storykeeper to make games.
Axiy has multiple jobs.
Pixel Art
Edit
Games Started
Edit
Unused Programs
Edit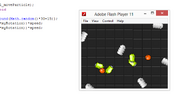 At 2012 Axiy programmed a mini-game in Flash CS5 with enemies from Quack. The test includes Sheeps, Wormants and Spheranges. The character will have to click on the enemy to kill them. There will be a score. Axiy continued it at 2013.
Ad blocker interference detected!
Wikia is a free-to-use site that makes money from advertising. We have a modified experience for viewers using ad blockers

Wikia is not accessible if you've made further modifications. Remove the custom ad blocker rule(s) and the page will load as expected.