For website, please see IJZM (Website).
IJZM is the current programmer in Blueflake.
Programming History
Edit
IJZM told Random-storykeeper in the nitrome wikia chat how he discovered and started programming: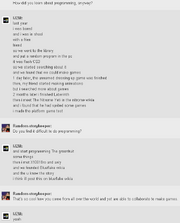 Some time after Laberinth's release, IJZM revealed that since he's not good at english, instead of being named "Labyrinth", he spelled wrongly "Laberinth" for Laberinth.
He is the first programmer in Blueflake.
Ad blocker interference detected!
Wikia is a free-to-use site that makes money from advertising. We have a modified experience for viewers using ad blockers

Wikia is not accessible if you've made further modifications. Remove the custom ad blocker rule(s) and the page will load as expected.